CEREC Crowns
Dental crowns have become a pretty common restoration when it comes to fixing issues such as weak and damaged teeth. When a filling just won't do a dental crown is the next logical option. But getting dental crowns usually takes a couple visits, which can be a challenge if you have a busy schedule. However, Dipiero Family Dental is happy to offer CEREC crowns, so now you have no excuses as you'll receive your crowns the same day.
What are CEREC crowns?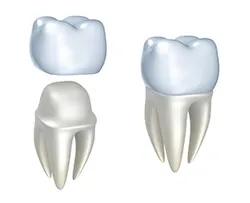 Unlike traditional crowns that are created in a dental lab outside our Akron office, CEREC crowns can be made in-house, which alone exponentially speeds up the process of getting your new restoration.
CEREC crowns are made using revolutionary CAD/CAM technology. Now your dentist can make your restoration while you wait. We will take images of your teeth, which are then uploaded to our computer. Our software will create 3D images of your tooth to help us design a crown that will offer the proper shape and precise measurements.
Once the crown is designed our milling station will take a ceramic block and begin to construct your crown from the material. The last step is to then cement the crown over the prepared tooth.
What are the benefits?
As you may already be able to tell, getting CEREC crowns offers an array of advantages including:
Convenience : What is more convenient than getting a restoration in just one single visit? Now there are no scheduling excuses as to why you can't come in to see your Akron general dentist for treatment.
Mess-free : Traditionally, taking impressions of your teeth usually means dealing with messy and sometimes unpleasant putty-like material. But not when you get CEREC crowns. Traditional molding resin is swapped out for a mess-free camera that quickly and accurately takes precise images, which can also be immediately uploaded to our computer.
Quality : CEREC crowns are made from a solid block of ceramic, so what you'll get is a dental restoration that is strong, durable and looks just like a real tooth. The ceramic is even matched to the color of the rest of your teeth so you'll get a realistic-looking restoration every time.
If you are ready to find out if CEREC crowns are the right restorative treatment for you then turn to the dental expert in Akron, DiPiero Family Dental. Call our office today!
For more information on CEREC Crowns in the Akron, OH area, contact DiPiero Family Dental at (330) 867-9494 or Request An Appointment today!